I've been working on Harley a lot over the past few months, when he first came to me a few years ago, we did two japanese sleeves in black and grey, and after a break from getting tattooed, he came back with a bang and with plans to go full out with a full torso tattoo.
He loves his comics, so he wanted to dedicate his back to the series 'Saga', and his front to the comic 'Monstress'. Both are illustrated by phenomenal artists (Fiona Staples and Sana Takeda respectively), so it was a joy to work with their amazing illustrations.
Harley and me worked together to bring the pieces into some sort of framework, based on the japanese work he already had, and we kept it all in black and grey for continuity. (That's a fancy way of saying that we winged it)
Still some gaps to be filled, and some shading to adjust here and there, but you get the idea 🙂
Another epic piece in the making is after a print by Alasdair Gray called 'Faust in his study' from 1958. The print is bonkers, but getting it on your whole front is arguably even more bonkers- my customers are the best!
By now I'm dying to show you something where i can actually take credit for the artwork, so here's a hollyhock in a sleeve of flowers I'm working on. These kind of pieces i usually do freehand, I feel that gives them a bold and illustrative quality that I like.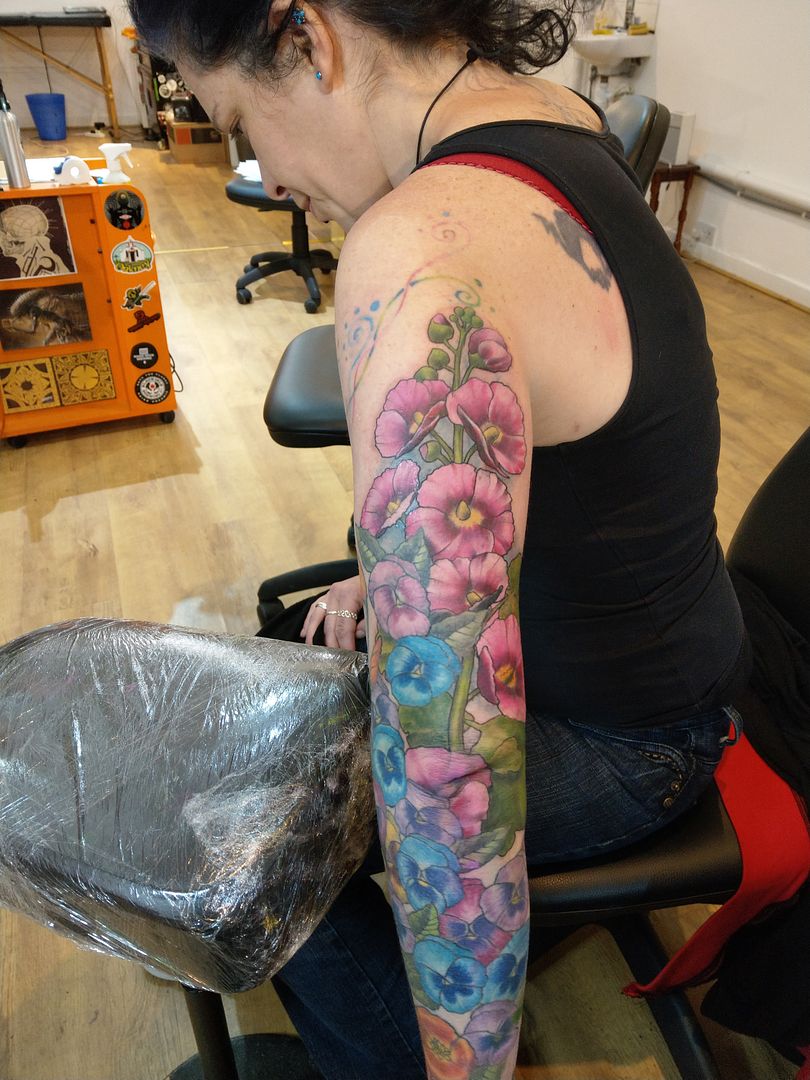 Billy got two sleeves by me a number of years ago, following the fire and water theme very loosely, and now he wanted them to join up to the newer pieces on his hands. he felt the hand pieces looked too separate, so we extended the colours and shapes from the sleeves down.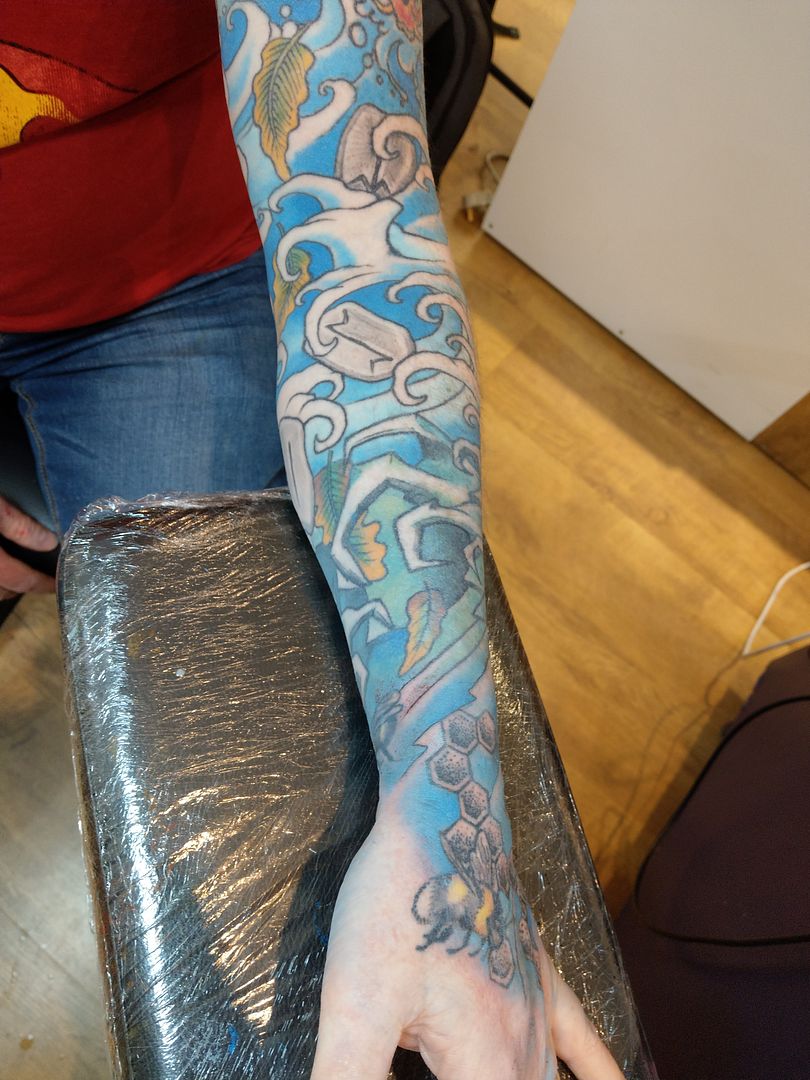 Chantelle booked the first session of her sleeve to happen on her 18th birthday, here we have a young lady who knows what she wants!
(Ignore the purple smudge at the bottom of this piece, we were playing around with a transfer, but didn't like it, and the stuff is bloody hard to wipe off again, so I decided to let Chantelle deal with it in her own time rather than cause her any more pain than I already had)
It's going to come down on to her hand and fill the whole arm when we're done.
another animal themed black and grey sleeve is in the making, Sarah is a vegan and loves animals of all kind, so these are mostly portraits of pets she has lived with or animals she has befriended. Including some of the ones at our Tribe sanctuary! Our Skip the donkey, Rudy the cockerel and Francisco the pig all make an appearance, it was a real privilege to be able to tattoo them as part of this lovely sleeve!
and then there was the flying pig with the jet pack and the goggles, accelerate, take off and mid flight all captured in a children's book sort of style, so much fun!