The Seashepherd thing was an interesting trip. For those who aren't familiar with the Seashepherd, they are a marine conservation group who are not adverse to some pretty confrontational direct action against poachers and illegal fishing. Recently they opened a small tattoo area in their main base/ office / shop in Amsterdam, and were inviting tattooists to come and do some work there, with all proceeds going to the Seashepherd .
I like the concept of tattooing for a good cause, as you probably know, all the profit made at Tribe goes to fund our animals sanctuary here in Scotland. The Seashepherd are a massive organisation, and I was curious to see how they made the tattooing work for them, so I packed my bags, flew over and did some work for them (and my nosey *cough*). It was a good experience, although they are still at the beginning of their venture and there aren't many customers yet, I fell that I helped contribute a bit to their mission.
the Seashepherd shop is right at the end of this very dutch looking street 🙂
Back at home I've had some interesting projects to get stuck into. I've been trying to cut down on posting 'Work in Progress' pictures on this blog here, but here's one anyway! Derek is working on a colourful, bold and imaginative four elements theme, with fire and water on one side
and air and earth on the other arm. We've not tackled the earthy bit yet, but the air one is fun!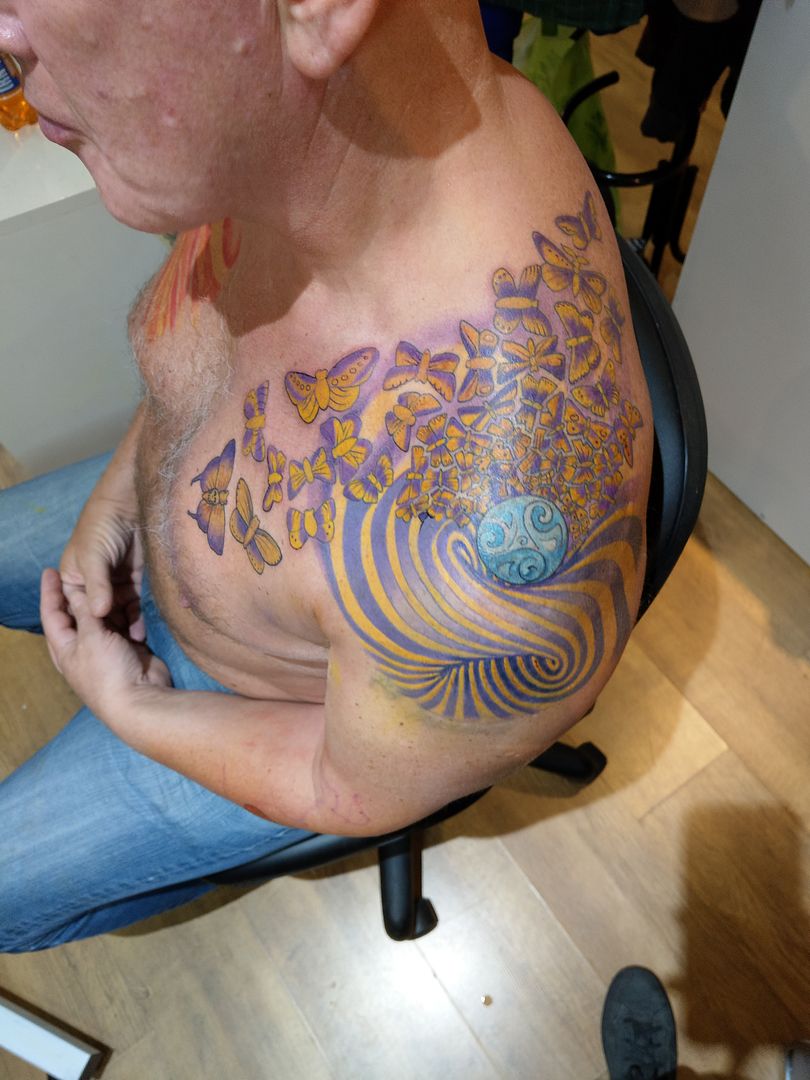 There are also some old, lasered pieces under the new work, but our laser tech did such a great job with getting rid of the old pieces, that we were able to blast over them with warm colours. Hurray for laser!
another cover up was done without much laser. The design over it had to incorporate plenty of black to hide the old tribal piece, but we did let one corner of the tribal peek out from the dress, so that warranted a small bit of laser to help lighten it and let it disappear in the grey flowers.
Not involving a cover up was Aileen's phoenix. Aileen loves colours and patterns, so we incorporated some of the patterns found in a geisha sleeve on her arm that we did a while ago. The placement of this phoenix allows for it to stretch it's wings when Aileen bends her knee 🙂
An unusual trip for me into photo realism, although my usual style is illustrative, I do enjoy this kind of work occasionally. John's hanya mask
back to japanese work I finished this 3/4 sleeve with a green dragon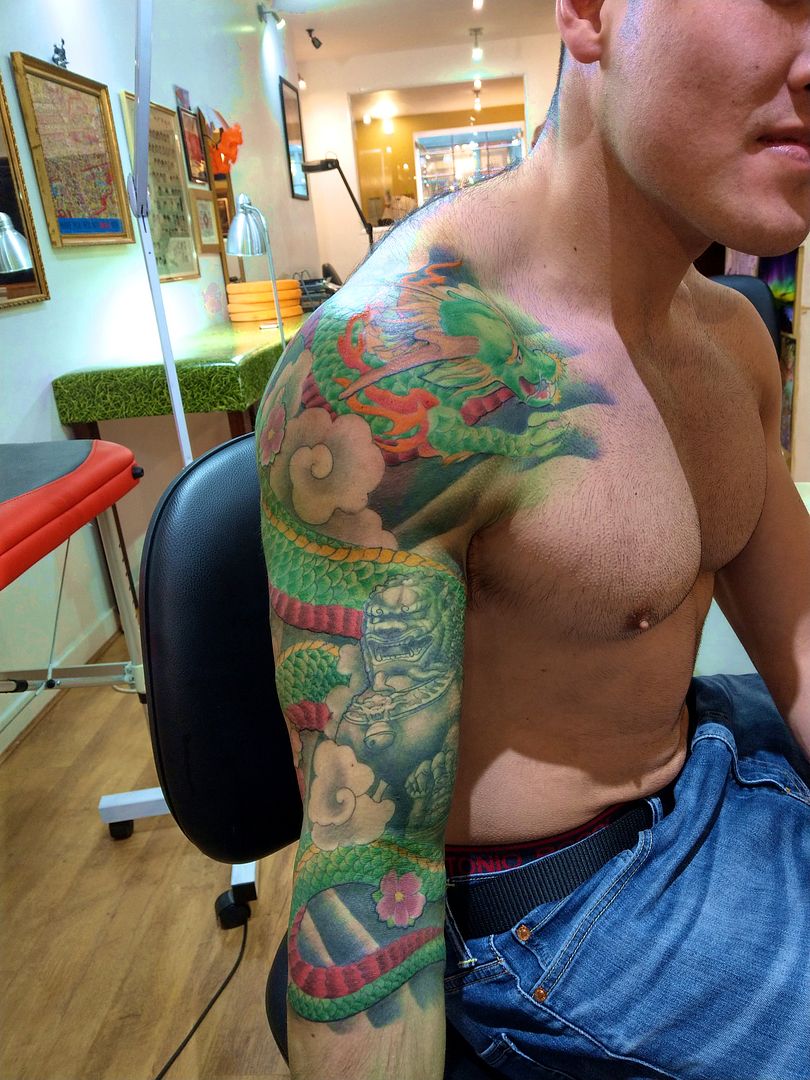 and another dragon sleeve (black and grey dragon) with a flash of blue
Scar cover ups are something I enjoy doing, here are some wild flowers and berries, not quite finished yet, but finished for now until the customer decides what flowers she wants next.
I added a few inches on to other artists work with a sleeve about the Hong Kong island of Lantau, there is a massive statue of a buddha at the top of this island ( that and a dragon and some flowers take up 3/4 of the sleeve, by other artists), with hundreds of steps going up and some goddess statues and pillar type structures on the way. we used stylised representations of these to give a kind of dreamscape feel to her sleeve.
now here's something batshit crazy: a front torso piece after a piece by scottish artist Alasdair Grey. This is what we are working towards:
and here's what we've done so far. We did a section a few years ago, but this is a deliberately long process, the customer likes the slow journey and isn't in a rush.
another black and grey sleeve, with a fun old world/ pirate map kind of feel
and here are a few smaller pieces and works in progress (..I know…)
I've been a bit late to the instagram party, it's a must for visual artists these days, and I have jumped on the band wagon. Although i much prefer the blog, a bit of a blether and back story, what the kids want these days are smaller snippets of information and images. I'm still going to write this blog, but I have been pilfering it for content and reposting images on instagram- I apologise if you follow me on social media and see the same images and blurbs again; I'm just 'playin the game' 🙂